Fortune magazine didn't go so far as to publish a full green issue, but this month's issue features a special report on green business with some excellent insights.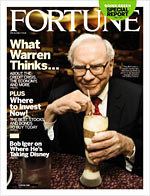 The roundup of stories includes solar, biofuels, recycling, transportation, fashion, wave energy, green building, carbon trading, sustainable fishing, and Coca Cola. Here are the links and a short overview:
11 Green Ideas: Entrepreneurs are risking their money to develop everything from hybrid vehicles to home solar-panel systems.
MG: While none of the 11 use social-media technologies, Sungevity employs the web in conjunction with satellite imagery to bid and plan residential solar installations for maximum efficiency and cost savings. "After rebates, a standardized Sungevity solar array for a four-bedroom home in Northern California will cost about $21,000 and deliver an estimated return on investment of 13% over the system's 25-year life." The service is limited to San Francisco at the moment.
Carbon finance comes of age: The cap-and-trade market for emissions – coming soon to America – is creating huge new opportunities for business.
MG: The bottom line for carbon trading in the U.S. is "that passage of the Warner-Lieberman bill would create the world's largest carbon emissions market…with a market value of $150 billion." Unfortunately, this market will be entrusted to many of the same people who brought you Enron and subprime. We need to put a price on carbon, no doubt. It needs to be driven by markets and regulated by government. But it's too important for us to rely exclusively on Wall Street geniuses (no offense).
Great green careers: Earth friendly jobs aren't just about organic farming and installing solar panels. Meet the carbon traders, eco-bankers and corporate climate strategists shaping the new green economy.
MG: Christina Page is Yahoo's director of climate change and energy strategy. This includes "building better data centers…and installing an energy monitoring system so that every Yahoo employee knows how much energy a laptop or an entire building consumes. It also means pushing out green tips to Yahoo's users." As the largest social network, Yahoo! and Page have tremendous potential to affect change.
The Search for the Perfect Fuel: A U.S. company thinks it has found the next big thing in energy. Anyone for pond scum? (Not available online)
MG: This profile of GreenFuel Technologies highlights algae-based biofuels. There is tremendous long-term potential as both an energy source and a means of sequestering carbon. But the hurdles are high.